Laser Periodontal Treatment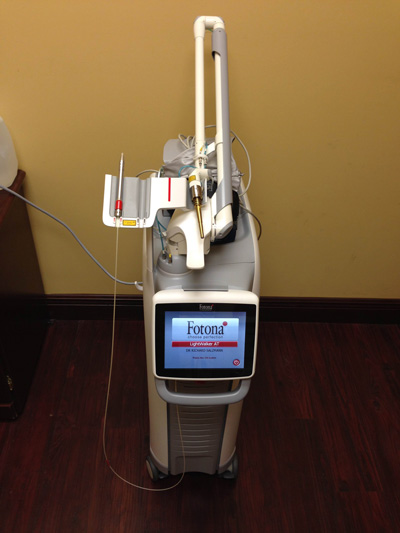 Dr. Richard Salzmann offers laser periodontal treatment, which is among the latest technologies for treating periodontal disease. This treatment is an alternative to traditional periodontal surgery. Dr. Salzmann's office sees patients from Cooper City, Davie, Pembroke Pines, and all surrounding areas.
Laser periodontal therapy is a laser-based method for treating periodontal disease. This minimally-invasive procedure provides outstanding results, and is a great alternative to standard gum surgery.
Periodontal disease is a leading cause of tooth loss in adults, affecting nearly 50% of people in the U.S. Periodontal disease begins as plaque, which hardens and forms tartar and calculus deposits. Calculus deposits harbor bacteria, leading to infection of the gums. Early stages are known as Gingivitis, characterized by swollen, red, bleeding gums. Left untreated, Gingivitis progresses to Periodontitis, a much more severe condition in which the teeth separate from the gums and supporting bone structure. Without treatment, periodontal disease results in tooth loss.
How Does Laser Periodontal Treatment Work?
Laser Periodontal Treatment is an alternative to traditional gum surgery. It is less painful, and does not require sutures. The laser device is made of very small laser fibers, which are inserted between the gum tissue and tooth, where it removes the infected area. The laser only removes diseased tissue, while leaving the underlying connective tissue intact, allowing for rapid healing. The procedure is painless, and is much faster than traditional gum surgery. The laser seals the blood vessels and results in much less bleeding than traditional periodontal surgery.
If you are looking for quality periodontal treatment in Cooper City, Davie, and Pembroke Pines, then call the office of Dr. Salzmann today to learn more about Laser Periodontal Treatment and how it can benefit you.
There are different types of lasers. They differ with respect to the medium utilized and the wavelength delivered:
Diode Laser - Very small and inexpensive devices that are used for minor soft tissue procedures. They operate at a wavelength of about 980nm.
Nd:yag Laser - A powerful device that delivers a wavelength of 1064nm. This device is most commonly used for the treatment of periodontal disease. It is purely a soft tissue laser that allows us to eliminate diseased periodontal tissues.
Er:yag Laser - A powerful device that delivers a wavelength of 1940nm. This device is commonly used for hard tissues such as calculus removal and bone surgery.
Co2 laser - A powerful and expensive device that delivers a wavelength of 10600nm. It is a soft tissue laser used mainly in oral surgery.
Dr. Salzman uses both the Nd:yag and the Er:yag laser. As a result, both soft tissue and hard tissue surgery can be performed. Both lasers complement one another. The soft tissue laser is used to remove the diseased tissue and the hard tissue laser is used to remove calculus.
Laser periodontal treatment is best indicated for moderate cases of periodontal disease. It is also an excellent alternative for medically comprised patient, especially those on blood thinners, since there is no cutting, bleeding or suturing. For more advanced cases, traditional surgery is still a better alternative. At this time, there is insufficient evidence to suggest that any specific laser wavelength is superior to the traditional treatment methods of treating periodontal disease.